Collect Rosenthal .com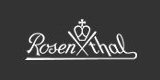 Purchase Item(s)

Thank you for your interest in this item. The quickest and preferred method of payment is Paypal.

Please contact us at the email address below for enquiries regarding postage costs and to complete your purchase.


john@collectrosenthal.com


NOTE: Postage discounts are available with the purchase of multiple items.